Browse Items (11 total)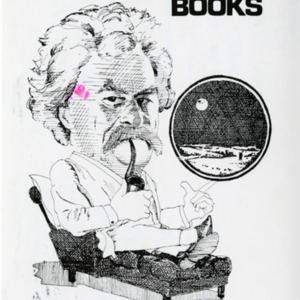 The location of Prairie Lights at the time of this postcard was 100 South Linn Street, Iowa City. Postcard sent to Gerry Mansheim, postmarked February 17, 1983. Dog and cat 13-cent stamp.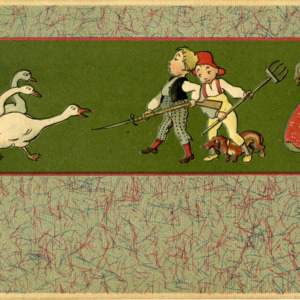 Postal information in German, Czech, Russian and other languages is printed on the back of postcard. Postcard sent to Ella McAllister, postmarked February 15, 1909. Ben Franklin 1-cent stamp.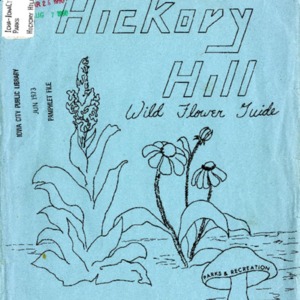 Detailed descriptions of wild flowers common to Hickory Hill Park. Booklet printed with black ink on 8.5x11" multicolored paper. Includes glossary of terms. Flowers include: Poison Ivy, Jack-In-the-Pulpit, Common Sorrell, Garden Sorrel, Stinging…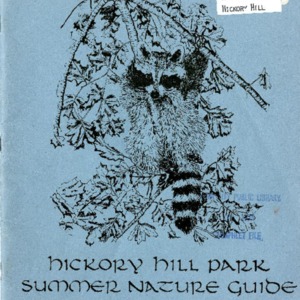 Detailed descriptions of various flora and fauna to be seen during a walk on the southwest part of the Hickory Hill Park nature trail during the summer season. Flora and fauna mentioned: Beaver, Honey Bee, Clover, Hummingbird, Jewel Weed, Raccoon,…
Detailed descriptions of various flora and fauna to be seen during a walk on the southwest part of the Hickory Hill Park nature trail during the fall season. Flora and fauna mentioned: Virginia Creeper, Poison Ivy, Yellow Shafted Flicker, White Oak,…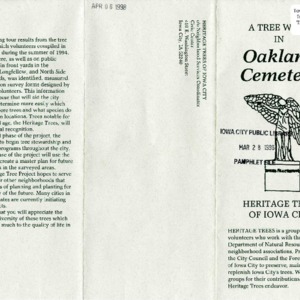 The Oakland Cemetery Tree Walk begins at the east end of Brown Street, walks along the Governor Street side of the cemetery, turns east when parallel to Church, heads back towards Brown, and turns and curves past past many of the walkways in the…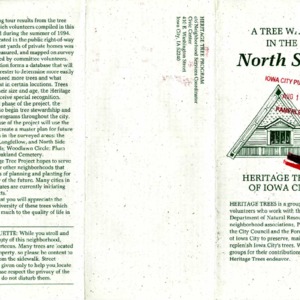 The North Side Tree Walk begins at North Market Square and walks along Johnson, Ronalds, Van Buren, Church, Linn, Davenport, Dubuque, Bloomington, and Dodge Streets. Due to the changing nature of the neighborhood and other natural occurrences, the…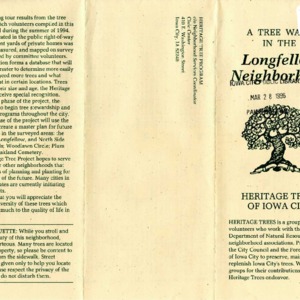 The Longfellow Tree Walk begins at the Longfellow school parking lot, heads west on Seymour, north on Clark, west on Court, south on Summit, east on Sheridan, and back up east on Seymour Street. Due to the changing nature of the neighborhood and…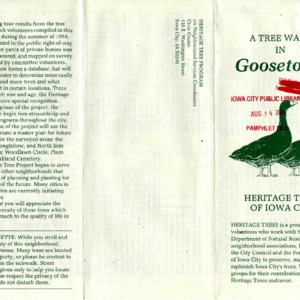 The Goosetown Tree Walk begins at the Hickory Hill parking lot off of Bloomington Street and ends at the Hickory Hill park trees near Cedar Street. The tour walks along Bloomington, Reno, Center, Davenport, Pleasant, and Cedar Streets. Due to the…